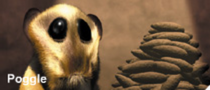 The
poggle
is a small, shy murine murid found on the Great Plateau, 100 million AD, in the documentary
The Future is Wild
.
In the depths of silver spider colonies, collected grass tree seeds are stacked against the rocky walls, packing the cracks between stones, and piled in loose pyramids. The spiders come and go, adding to the heaps all the time. Sometimes inside some of the piles, something moves. The little furry face of a poggle will peep out, all whiskers and rounded ears, big eyes peering around in the darkness. The rodents are there to feed on the grass seeds.
Ad blocker interference detected!
Wikia is a free-to-use site that makes money from advertising. We have a modified experience for viewers using ad blockers

Wikia is not accessible if you've made further modifications. Remove the custom ad blocker rule(s) and the page will load as expected.